Registration Details

Sunday, August 18 – Tuesday, August 20, 2019, Minneapolis, MN
Questions regarding registration? Email nexusreg@umn.edu.

Registration Fees
Early Bird Registration Rates are valid through July 19, 2019. Register your team now!
Consider becoming a member of the American Interprofessional Health Collaborative and receive a $50 discount on Nexus Summit registration.*

Type

Early Bird

Regular

AIHC Membership and Full Conference Combo*

$750

$850

AIHC Member Full Conference*

$600

$700

Full Conference

$650

$750

Monday, August 19 Only

$300

$350

Tuesday, August 20 Only

$300

$350

Student

$275

$275

Short Courses
$150
$150
Continuing Education
$60
$60

*Follow this link for more details on AIHC Membership

Registration fees include:
Plenary sessions, skills-based workshops, Nexus Fair, and Lightning Talks
Online access to learning materials from main conference
Conference wi-fi
Evening reception on August 18
Breakfast, lunch, and coffee breaks on August 19
Breakfast, coffee breaks, and awards lunch on August 20
---

CLE Innovation Challenge
Sunday, August 18 - Tuesday, August 20
The CLE Innovation Challenge will provide your interprofessional academic-practice team with the opportunity to learn and apply design thinking to create new and better strategies for improving interprofessional learning for patients, learners and health care settings back home.
The challenge is a special opportunity for registered attendees of the Nexus Summit 2019. Participation in the CLE Innovation Challenge is free of charge but space is very limited. Teams are encouraged to sign up together as early as possible, and must be registered for the Nexus Summit 2019 to qualify. Teams signing up together receive first priority.
If you are attending the Summit as an individual and are interest in participating, you may register for the CLE Innovation Challenge, and be assigned to join an existing team working on a shared problem or opportunity of interest.
---

Interprofessional Continuing Education Credits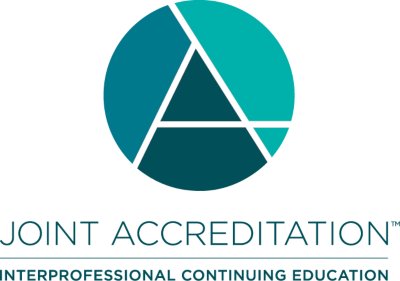 In support of improving patient care, The National Center for Interprofessional Practice and Education is jointly accredited by the Accreditation Council for Continuing Medical Education (ACCME), the Accreditation Council for Pharmacy Education (ACPE), the American Nurses Credentialing Center (ANCC) and the Association of Social Work Boards (ASWB) to provide continuing education for the healthcare team. At the Nexus Summit, the Center's intent is to provide accreditation and interprofessional continuing education credit for the following content:
Short Courses (Sunday, August 18, 2019)
Skills-Based Workshops and Lightning Talks (Sunday - Tuesday, August 18 - 20, 2019)
Plenaries and Keynote Address
Interprofessional continuing education credit is a $60 add-on to the registration packages and awarded based upon marked attendance and completion of evaluation forms. Sessions must be attended in their entirety; partial credit of individual sessions is not available. For questions regarding continuing education, please email ipcapps@umn.edu.
---

Terms and Conditions

Cancellation requests should be submitted via email to nexusreg@umn.edu.
Cancellations received by Monday, July 29, 2019 will be refunded the conference registration fee, less a $75 administrative fee. No refunds or credits will be issued for cancellations received after Monday, July 29, 2019. However, Short Course substitutions are allowed prior to the conference start date, dependent on availability. Please contact nexusreg@umn.edu with the Short Courses you would like to substitute.
In the unlikely event that this conference is cancelled or postponed due to unforeseen circumstances, you will be fully refunded registration fees. The National Center cannot be held responsible for any other expenses, including cancellation or change fees assessed by airlines, hotels, travel agencies, or other organizations.
Refunds will not be given for no shows.

Use of photographic likeness release:
Participants of the summit authorize the Regents of the University of Minnesota (the "University") and its agents to record photographs or other portraits or likenesses of me on videotape, audiotape, film, photograph or any other medium and use, reproduce, modify, distribute, and publicly exhibit such recordings, in whole or in part, without restrictions or limitation for any purpose that the University deems appropriate. I further consent to the use of my name, voice and biographical material in connection with such recordings.
Participants release the University, its successors and assigns, agents, and all persons for whom it is acting from any liability by virtue of any blurring, distortion, alteration, optical illusion, or use in composite form, whether intentional or otherwise, that may occur or be produced in the recording process, or any unintentional misspellings or inaccuracies and waive any right that I may have to inspect or approve the finished recordings.